This is a slightly different case study from those we usually publish. Kelly did not use Cinch Self Storage Bicester for her business but to help with a wonderful birthday surprise for her partner, Gavin. Read on to hear her fantastic story…
Looking on Ebay, at the beginning of this year, Kelly and Gavin came across a Yamaha Moped and Gavin was certain he had seen it before. After a little bit of reminiscing, Gavin quickly realised that it was the exact moped he had had when he was sixteen.
Too amazing a coincidence to let it pass him by, Gavin began bidding on the moped, always with a price in mind that he would not go over.

Unfortunately, the price reached Gavin's end price and then some so Gavin stopped bidding.
And this is where the surprise begins…
Knowing how much it meant to Gavin and with his next birthday being his 50th, Kelly began bidding herself and won the bike! 

But, now she had the slight issue.
How was she going to hide a moped for 6 months?!

Kelly began by looking for storage near to her home but, having no luck and about to resign herself to hiding the moped in her neighbour's garden, she had the idea of looking at storage in Bicester. 
Having worked in Bicester as a police officer, she had a good knowledge of the area. When Cinch Self Storage Bicester came up in her search, she thought she would see if we could help.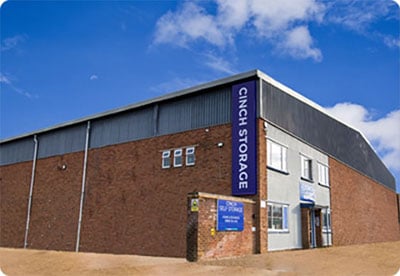 Kelly phoned up and spoke to store manager, Andy. She shared her predicament and Andy was quick to reassure her that he would find her the perfect space.

"Andy just said 'Not a problem, we'll sort it for you'. I told him the dates and it was done. It completely took everything out of my hands and I didn't have to worry about it anymore."

Arranging a courier to take the moped to Cinch Storage Bicester, Kelly headed over to Bicester to receive the moped and get it settled into its storage unit.

The perfect unit
When she got to the unit, she found that Andy had selected the perfect space.

"Andy took me to the unit and I was quite surprised because I looked at it and I thought the bike wouldn't fit! But, with his knowledge and experience, Andy got me a storage unit where there was no wasted space. The bike fitted in there beautifully."

She left the Bicester store knowing the moped was going to be well looked after.

As the day of the surprise edged closer, Kelly rang the Bicester team.  Speaking to fellow store manager, Nigel, he assured here that unit would be unlocked and ready for her on the day.

The day of the surprise
Telling Gavin they were just 'popping out for an hour', Kelly drove them both over to Cinch Storage Bicester. True to his word, Nigel had the unit ready for their arrival.

And Andy was even waiting at the unit, ready to photograph the event for Kelly!
"Andy was there waiting, with his phone ready. It was the best surprise and it was caught on film. It felt like a community was there, coming and enjoying it."

Still not ready to take the bike, Andy explained to Kelly and Gavin about the code. And, as a police officer, Kelly found this level of security to be wonderful.
"Andy explained the security system to us and the code. I thought it was just a generic code, so the fact that, actually, if anyone went in my storage unit they would know about it, I thought what a great system. Being a police officer, I know those things are important so I was just blown away."

Safe to say, Gavin was extremely happy with the amazing surprise Kelly had arranged for his birthday.

And Kelly was extremely happy with the Cinch Storage Bicester.

"It was faultless and I'm a bit sad I'm not there anymore!"
If you would like more information about renting a unit at our Bicester store, give them a call today: 01869 254245 or head over to our website: cinchstorage.co.uk/facility/bicester